Помощник Администратора
Staff member
Joined

Aug 27, 2018
Messages

26,304
Reaction score

213,482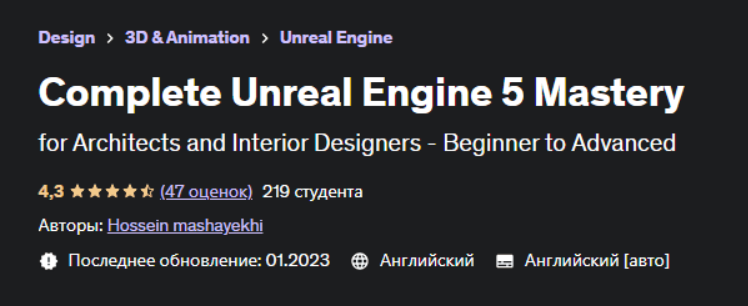 ОПИСАНИЕ:
Unreal engine is one of the most advanced real-time 3D graphic tools for rendering which is used in animation, materialization, lighting, … in architecture. This software has attracted the attention of many architects, designers even employers in recent years. This popularity is for a remarkable ability to produce things quickly that makes the employer delighted.
Animation is one of the most powerful techniques to provide architecture projects which will make your work stand out from others in the market.
The features of the Unreal Engine:
Free license worldwide
How to download and install the software
Unreal engine plugins (Nanite)
Plugins that make projects work faster and more attractive.
Advanced lighting system (lumen)
You can see quick changing; Unreal Engine will show you the scene in real-time rendering.
Datasmith
The ability to link with other 3d software like 3dmax, Revit, Sketchup, or Rhino to unreal engine.
Create a menu and Autorun
To introduce your project, you can create professional autoruns
Blueprinting
Change scene materials or objects, no previous Unreal or coding experience is needed.
Ability to model UVW to Unwrap
You can edit your modeling and change the UVW easily.
Where do I start to work with Unreal Engine?
Initial familiarity with modeling concepts in 3dmax, Revit, Rhino and Sketchup, or other modeling software is required.
Unreal Engine software allows you to import a complete V-ray or Corona scene with materials into Unreal Engine, create materials and lighting, and finally send the Exe file output to the employer. The employer has the possibility of entering the project environment, and changing the materials and objects.
The course will cover the following topics in thorough detail:
The latest version of the unreal engine (5)
basic familiarity with the software.
How to install the software.
importing projects into the unreal engine from various modeling software.
Object-oriented programming and how to put it into practice.
Learning different types of lighting for example:
Advanced lighting
Interior area lighting
Exterior area lighting
Day and night lighting
HDRR
Skylight
Learning different types of materials from scratch:
Create material master
PBR material
Mega scan material bank
unreal material
Quixel material
Instances material
Full tutorial on getting the exe output and checking all the bugs
Create animation
The scene Setting
Animation diverse exits
Для кого этот курс:​
3D designers and Architects
Anyone interested in real-time rendering
Designed for those who want to become superior in rendering
No programming experience required
Чему вы научитесь​
The latest version of the unreal engine 5
Different types of lighting
Creating different types of materials from scratch
Full tutorial on getting the exe output and checking all the bugs
Animation and Scene Setting
Требования​
Basic familiarity with modeling concepts in 3dmax, Revit, Rhino and Sketchup, or other modeling software
64-bit PC capable of running Unreal 5 (recommended) Or a Mac running the latest macOS Big Sur.
+8GB of RAM
Quad-core CPU, 2.5 GHz or faster
DirectX 11, 12, or Metal 1.2 Compatible Graphics Card.
About 50GB of free disc space
ПРОДАЖНИК:
СКАЧАТЬ: